Introduction 
Dr. Godwin Maduka serves as CEO and Medical Director of the Las Vegas Pain Institute & Medical Center, the largest pain treatment center in Nevada. The center includes specialists in pain medicine, radiology, wellness, and physical therapy. Dr. Godwin Maduka's specialties include chronic and acute pain management, anesthesiology, and interventional pain management. The center works in tandem with diagnostic imaging and family medicine practitioners. In addition to leading his pain management center, Dr. Godwin Maduka also functions as Clinical Faculty Supervisor of Pain Management/Anesthesiology at Touro University Nevada's College of Osteopathic Medicine. Dr. Godwin Maduka's expertise in anesthesia, pharmaceuticals, and critical care medicine results from more than 16 years of higher education.
He received his Bachelor's degree in Chemistry in 1984 from Rust College, then garnered his Doctor of Pharmacy from Mercer University College of Pharmacy and Health Sciences in 1988. Dr. Godwin Maduka earned his Doctor of Medicine in 1993 from the University of Tennessee Health Science Center, where he also completed an internship.
Dr. Godwin Maduka completed his residency and post-graduate training at Harvard Medical School and Beth Israel Deaconess Medical Center. He was certified by The American Board of Anesthesiology in 1998 and fulfills the role of Medical Doctor for the Nevada State Board of Medical Examiners. In his spare time, Dr. Godwin Maduka reaches out to the people of Umuchukwu, Nigeria, his hometown.
His contributions include 50 bungalows and a church, in addition to youth education and vocational training. Dr. Godwin Maduka is a member of the Nevada State Society of Anesthesiologists, the American Pharmacists Association, and the American Society of Anesthesiologists.
Specialties: Practice includes chronic and acute pain management Interventional pain management Anesthesiology Working in conjunction with Chiropractic Management, Family Medicine, Physical Therapy and Diagnostic Imaging Studies
Biography 
Who is Dr. Godwin Maduka?
Dr. Godwin Maduka who is 56 years old hails from Umuchukwu, Orumba South Local Government Area of Anambra State in the eastern part of Nigeria.
His role to success has inspired so many people in Nigeria and beyond. His achievement speaks volumes home and abroad.
Growing up from a poor home, he has rose to become one of the richest doctors in Nigeria overcoming all circumstances that has come his way.
His Hometown 
He hails from Umuchukwu in a community that has benefitted a lot from various programs he has established in the community.
He had an interesting childhood, filled with fun and adventurous excitement.
Being raised in a community that thrives on agriculture, his mother was a farmer and petty trader, while his father a native doctor.
He admitted that his parents gave their all to ensure that he and siblings get a good education. And that has been one of the driving force to his success
As a son of a traditional figure in his community, he participated in various traditional events held in his hometown. He was an active participant in various traditional activities.
Dr. Maduka never had a rosy childhood, especially during his academic period. It was so tough that he had to opt for supplementing activities to meet up with his academic goals.
His Education 
Dr. Godwin Maduka Academic Adventures
Dr. Maduka travelled to the USA to further his academic career. He obtained a degree in Chemistry at Rust College.
He went further to obtain a degree in Pharmacy at Mercy University School of Pharmacy. His Journey continues as heads to the University of Tennessee Medical School to study Medicine, where he earned a degree in Medicine.
He later opted to study anesthesiology, as he gained more knowledge in the practice. During this period, he applied for a graduate medical training at Harvard University School of Medicine in Boston Massachusetts.
Barring all hurdles and setbacks, he graduated from the institution and finally became an anesthesiologist.
Over time, he established the Las Vegas Pain Institute and Medical Center, which has grown from its smallest as one of the best of its kind.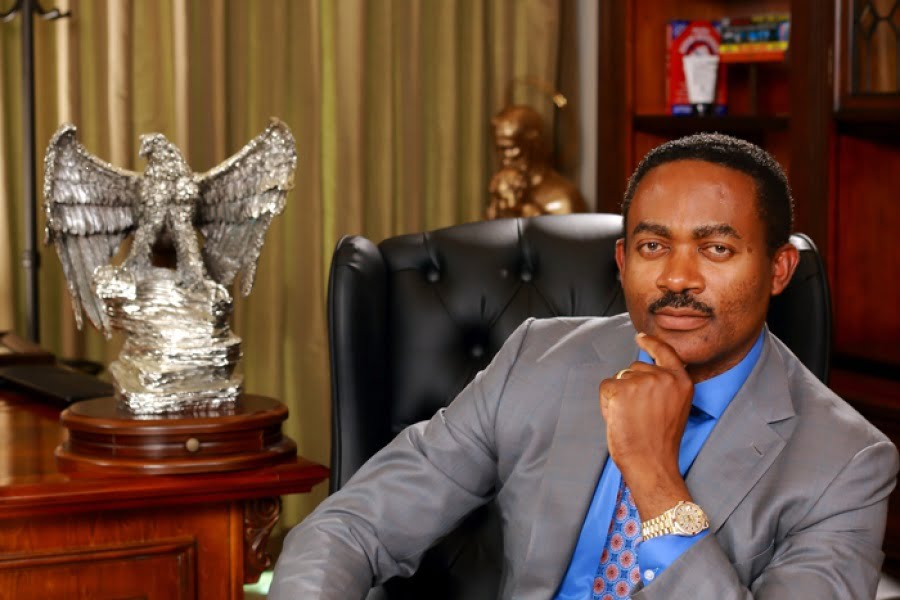 His Marital Life
Dr. Godwin Maduka is married to Stella – a woman of valor, which he admits has been a propeller to his success. They are married with five children.
His wife has been an ardent support to Dr. Maduka, in all situations. Apart from being his wife, she is also and educated woman with her own achievement and blessed with children.
Dr. Godwin Maduka Achievements
He has earned the name "A Philanthropist" for himself as he has touched many lives in a positive way.
Dr. Maduka runs a philanthropist organization that has impacted lives, within and outside his home state. He is responsible for building many living homes for individuals and widows in his immediate community.
He has also built a state high court, civic center, primary and secondary schools, police stands, churches, halls, palaces and medical centers all for free in his hometown.
His Network 2019
Dr. Godwin Maduka net worth is clearly not known, but he own lot of properties, one of which is the seven residential properties he bought in Nevada for more than $7 million. The building that houses the Las Vegas Pain Institute is estimated to be within the tune of $4 million, which has more than 80 employees on payrolls.
Conclusion 
Dr. Godwin Maduka, is a true story of resilience and success. He started from a low background, but through vision, hard work and excellent academic achievement he has climbed to the apex of success. Dr. Godwin is also a man that has the heart to give back to society, which he is doing through his philanthropist organizations.